Is it following a car too close on the highway? Maybe. Or is it a social event that includes drinking alcoholic beverages and grilling food?
I prefer the latter.
An American Tradition
Tailgating is an American tradition where millions of people a year participate in at sporting events, concerts and even weddings. Tailgate parties are typically hosted in parking lots before and sometimes after events. People attending are said to be "tailgating", even if their vehicle doesn't have a tailgate. Alcoholic beverages, grilling and lawn games are staples when it comes to hosting a tailgate party. Costumes, face paint, competitions and rivalries add to the electric atmosphere on game day.
First Tailgate Party
Some historians believe the first tailgate party occurred at the beginning of the Civil War in 1861. People flocked to Manassas, Virginia to watch the First Battle of Bull Run to see if the North was really going to fight the South. They arrived in their wagons with beer, wine and food and saw the South overwhelm the North.
Others believe it occurred at the first football game in 1869 between Rutgers University and Princeton University. Fans of both schools gathered to watch a game loosely based off of soccer rules and Rutgers won, 6-4.
The first pickup truck manufactured with an adjustable tailgate was in 1925. It was the Ford Model T Runabout with Pickup Bod and was priced at a lowly $281. The truck sped up travel to college football games and the adjustable tailgate gave its owners a place to sit on before entering the stadium.
Food and Drink
Tailgating involves consuming your favorite food and drink. With tailgating prevalent on most college campuses, it's likely you'll see plenty of inebriated college students by game time. Even adults I might add. Beer, hard liquor, wine, jello shots and beer bongs can be found at all tailgate events.
Grilling or barbecuing is the preferred cooking method. There's nothing like having a grilled cheeseburger with a beer at 9:30 in the morning. Or pancakes and eggs, pork ribs, hotdogs, smoked turkey or prime rib before the big game. Throw in chips, nachos, potato salad and you've got all the side dishes to go with.
Vehicles
Bring whatever you've got! Since most tailgating is done on college campuses and most students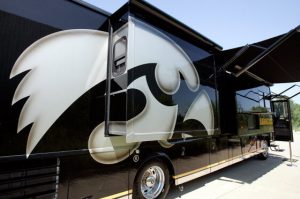 aren't exactly wealthy yet, just drive in whatever car you have! Just because you still drive a 1997 Chevy Corsica doesn't mean you can't come, even if it doesn't have a tailgate. It doesn't matter. Pack as many of your friends in it as you can as long as you have room for the drink coolers, food and canopy tent.
Now if your an alumni and have been in the workforce for quite a few years, you might be coming to the tailgate in something a bit cooler, like an RV or camper. Satellite tv, private bathroom (instead of using the port a pot), running water and electricity will enhance your tailgate experience on game day. I mean, who doesn't want their own personal crapper?
Games
So you're at your favorite tailgating spot at 6am. The game starts at 11:00. You've got base camp setup in 15 minutes. So you crack your first beer at 6:15am. Now what? Play games!
Popular tailgating games in between monitoring the food grill include beer pong, lawn darts, cornhole, ladder toss or just throwing the football around! Just don't get too involved into the the game to miss the start of the ACTUAL GAME! I've seen it done before!
Watch the video below for beer pong rules.

Conclusion
Tailgating is a cultural social event deeply rooted in American history. It doesn't matter the size of your vehicle, your bbq grill, or the games you play, but that you participate and have fun! It's awesome that 80,ooo+ people can get together on a Fall day in October, eat and drink, have fun, and enjoy a football game!