Your game day tailgate should be fun, relaxing and enjoying the big game. The last thing you need is a bunch of running around on game day hunting for certain items or food. Here's ten of the best tailgate tips to help you be prepared for the big day.
1. Be Organized
Have a laminated checklist that ensures you do not forget any key items on game day. Everything from food, utensils, games, canopy tent, chairs, ice and of course, tickets! You would hate to have to borrow essential items from your neighbors, especially if they're for the other team. Get your free checklist here.
2. Buy Your Food Early in the Week
Make sure you do your grocery run by Thursday if your tailgate game is Saturday or Sunday. Why? Because the closer it gets to the weekend, the better the odds that your favorite grilling foods, chips or drinks are gone. Just freeze your meat until it's time to thaw it out in the fridge or for marinating.
3. Freeze Water Bottles
Freeze some water bottles to supplement ice to keep items cold in your cooler. I'm not saying to skip the bag of ice, but frozen water bottles will thaw out and can be used for drinking later and washing hands.
4. Pack the Night Before
Pack everything that won't spoil into the vehicle. Chairs, tent, games, tables, radio, tv, etc. can all be loaded the night before. Just leave room for the food and drink coolers in the morning.
5. Prep Your Meat the Night Before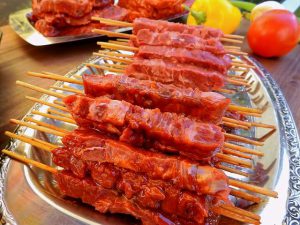 Cut, slice, marinate or season your meat the night before. Hamburger patties can be shaped and stored in between wax paper in a tupperware container. Onions, tomatoes and lettuce can also be cut up and stored also.
6. Toolbox for Necessary Items
Keep a toolbox packed full of necessary items for grilling, first aid and emergencies.
Items to keep stored in your waterproof toolbox include:
Spatula, Tongs, Basting Brush, Bottle Opener, Grilling Thermometer, Can Opener, Wooden Skewers, Toothpicks, Grilling Spices, Trash Bags, Hand Sanitizer, Bug Spray, Sunscreen, Rain Poncho, Wet Wipes, Duct Tape, Flashlight, Latex Gloves, Band Aids
7. Metal Bucket for Hot Charcoal
Pour your new charcoal in an empty five gallon metal bucket with a lid to transport the coals to the tailgate. After grilling, dump the hot charcoals into this same bucket and pour water over to help extinguish the ashes. Once the pail is cool to the touch, it is safe for transporting home.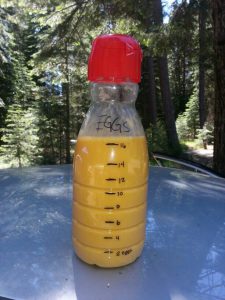 8. Easy Pour Eggs
Like eggs in the morning at your tailgate? Rinse out a used juice bottle, crack your eggs in a mixing bowl, then pour the eggs into the bottle. Shake well before using. Easy to transport in the cooler compared to a carton of eggs.
9. Label Coolers with Drink Type
Tape a sign onto the cooler lid letting people know what kind of drink is in each one. A sign for soda, alcohol, water, food, etc.
10. Bed Sheet as Table Cloth
A twin bed sheet fits perfect on a typical folding table. No worries about it blowing away and you can find them in your school's colors. 
Conclusion
Most of these tips are about getting prepared for game day in advance. Grocery and supply shopping should be done earlier in the week. You can load your vehicle, prepare the meat and freeze some water bottles the night before the game.
On game day, just finish loading up the cold and perishable items and hit the road to the stadium. And as always, have a designated driver if need be.
Please leave any comments or your own tailgate tips below for our readers. Thank you for reading!