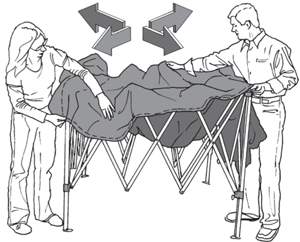 How do you set up your pop up canopy tent?
Here is a video and detailed step by step instructions with photos to see how to set up your canopy tent. I strongly suggest practicing this at home a few times before taking it on your tailgate or to the beach.
Watch the video below for more information.
Here is the actual written step by step directions from the manufacturer.
Take the tent out of the storage bag. Stand tent up on its legs and center it in the area it will be placed. With a helper standing at the opposite corner of the tent, slowly open tent by grasping the legs and pull thelegs away from each other. Only open tent about half way and stop. Unfold and loosely place tent canopy into proper place on top of frame.


---

Now each person returns to opposite corners of the tent, grabbing the opposing legs and stepping backwards while extending the frame to the full open position. You may have to lift the tent while pulling backwards if you're on an uneven or rough surface such as grass or sand.


---

As the frame fully opens, use one hand to pull up on sliding joint with other hand on the leg until the snap o-ring engages into the hole. Repeat at all four corners. BE CAREFUL NOT TO PINCH YOUR FINGERS.


---

At each corner, pull down hem of canopy and fasten with velcro so that the top is tight and there is no sagging.


---

Finally, both people position themselves at adjacent ends of the tent. Each person places their foot on bottom foot of tent leg to hold it down. Using your hands, lift the upper portion of the tent frame as the lower legs slide out until each snap button locks into first (top) hole. Repeat on opposite side of tent. The tent should measure approximately 6ft in height from ground level once fully erected.
 Your tent setup is complete! Depending on the weather, you may want to use the supplied stakes or bricks or other weights to hold down the tent. Enjoy!!!
Click here to read about how to take down your canopy tent.